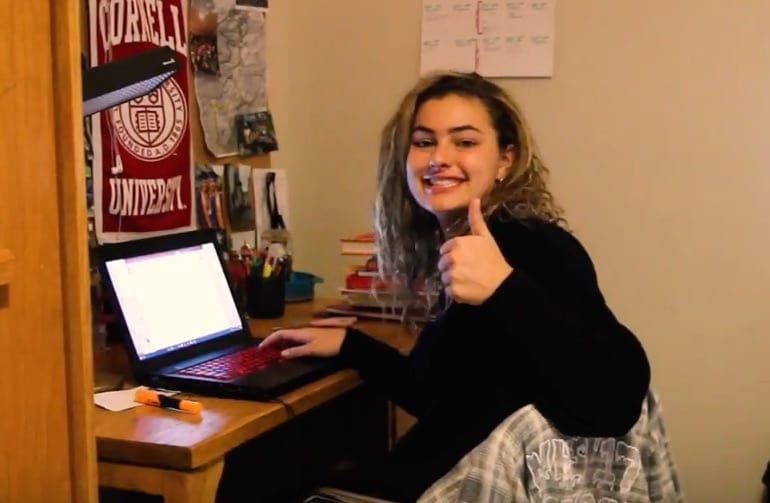 It is one of the worst kept secrets but no one seems to want to talk about it. College is NOT the best four years of most kids' lives. The first semester for most of our kids is a huge adjustment and why wouldn't it be? They have left their home, family, dearest friends and their dog. They are living in a small strange room with virtual strangers. The food is, perhaps, awful, and the campus confusing. The expectations of their professor may just create further confusion. Why then, would freshman Fall be one of the best periods of your life?
One college freshman, Emery Bergmann, has immortalized her first semester transition with humor and honesty that could bring a mom to tears.
Many Students are Lonely Freshman Year
We had a chance to ask Emery a few questions and learned that the Cornell freshman made the video as a class project. She was assigned a depiction of a "transformation" a broad assignment and said
I got down to thinking about what I felt strongly about, something I knew I could pour a lot of myself into.

I had just been talking to an acquaintance about how the college we see on the media or the college our friends and family talk about seems to be a little bit of a garnished reality.

I had also received the letter from my mom (as depicted in the video) which really got me thinking about my current situation. I felt it was something that would be easy to explain in image, and went from there.
She explains that social media allows students to have a rose-colored look at their high school friends' experiences at other colleges only heightening their sense of unease.
Emery's mom was understanding of her plight, confessing that she, too, had wanted to transfer when she was in college (and sending her a great Frank Bruni article). Experts tell us that admitting to your kids that it was not all a bed of roses is one of the most helpful things we can do. The problem is that so many of us remember our last semester of senior year and have blocked out our first semester of freshman year.
What Can Help Freshmen Can Make the Transition?
What can help freshmen when they are working through this transition?  Enjoying their classes and having a place that, while not quite home, feels like home and going on a pre-orientation trip, if such a thing is offered, says Emery. It is an early way to meet some classmates and find your footing.
"Coming home to a cozy dorm makes everything better", says Emery.
I loved my bedroom at home, so I knew I was gonna have a hard time leaving it once I moved to school. It's not realistic for everyone to invest a bunch of money in dorm shopping, but at least having an extra comfy bed or blanket for your room, or a lot of pictures or pretty lights can make all the difference. My bed here is actually more comfortable than my one at home!
After making this clear-eyed look at the truth about freshman year we asked Emery if she had any words of wisdom for freshmen still struggling to adapt or high school seniors who will face this challenge next fall.
10 Tips for Freshman Year
Don't go in expecting to find your best friends immediately. Meeting people takes time, and everyone is just as nervous as you are. Don't let first impressions be last impressions.
Eating at the dining hall alone is totally okay, don't let anyone else make you think it's not.
Social media is engineered, just because everyone else looks like they're having a great time on Snapchat or Instagram, doesn't mean they've met their best friends and have it all figured out.
Talking to your friends from home is super important, but don't let homesickness get in the way of you trying to meet new people. It's always healthy to talk to people who care about you, but face-timing them every single waking moment is only going to make the transition harder.
If you're not a crazy insane extrovert (few people are), then you will at some point feel socially strung out. Don't forget to take some time out for yourself. If that means going on a run, playing an instrument or watching The Office alone in your room, whatever you need to get away is 100% advised.
Go to office hours! Your professors and TA's are there to help you! A bad grade is worse than a scary professor.
Take advantage of mental health or Writing and Math Centers in your school. Asking for help is a sign of bravery, not weakness.
Meet people in your hall! You're gonna see them all the time for the next 2 semesters, so you might as well get to know them.
Get off of campus if you can. You really can get caught up in work at school, so taking some time to explore life past campus is important. You're gonna be living here for the next 4 years, definitely worth it to get to know the area.
Give it time. Everyone is figuring themselves out at the same time you are. You can do this! BUT if you also feel like you need a transfer, feel like the school is not for you, then by all means look into it. Especially if you feel like they don't have what you need academically, Remember. You are there to get a degree, to set up for life after school! Just keep that in mind.
Emery has had an overwhelming response from her friends and peers who acknowledge that they feel the same way she does. One of my kids described college as one of the best 3.5 years of his life. After the initial first semester transition, college lived up to its high billing. This sounds like a better description with which to send our kids off to college.
You Might Also Want to Read:
How to Help Your Homesick Freshman 
College Care Packages From Home: 50 Great Ideas