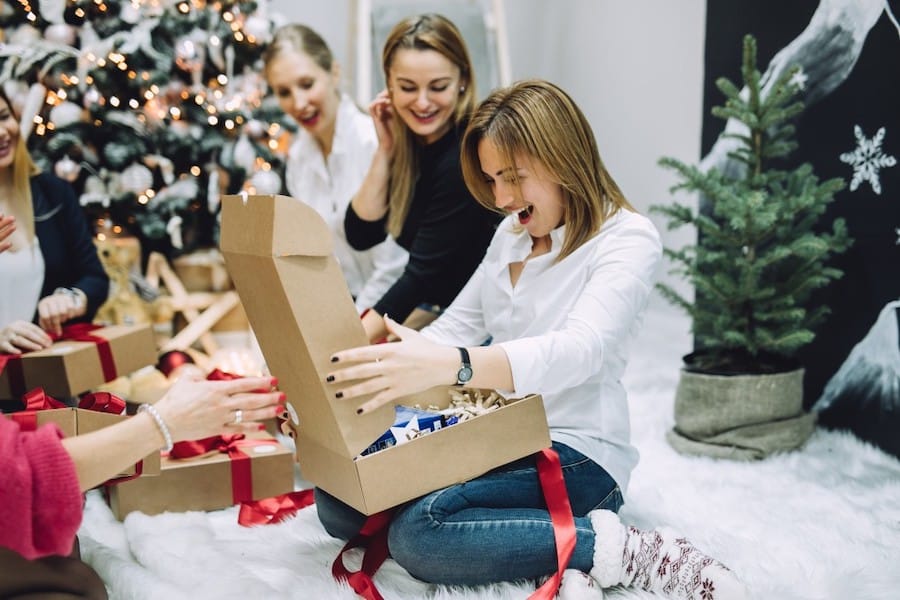 No matter how old our kids get, they'll always be young at heart when it comes to opening presents. One of the fun things about subscription boxes for teenagers or college students is that they will get to experience that same "unwrapping" thrill over and over. A subscription box is often an affordable, customizable, and unique way to give a gift that keeps on giving. Whatever your teens and young adults are into, we have info on box options they will love.  
This would be a perfect gift for Christmas or a birthday.
Note: We are a reader-supported site and we receive affiliate commissions from purchases made through some of the links in this post.
Best teen subscription boxes
Finds for fashion lovers
Buying clothes for teens is often tricky. Just like when they were little, they have definite ideas about what they want to wear, but it's not as easy to coax and bribe them into the darling outfits we pick out as it was when they were five.
Subscription boxes are a fun and easy way to get picks from a fashion expert. Most offer easy returns and a choice of price ranges. There are apparel options for both men and women.
Prime Try Before You Buy by Amazon offers the services of a personal stylist, or you can choose items yourself. Preview items and select up to 8 things to try on for FREE at home. Returns are also FREE. Note: This is available only for Amazon Prime members.
2. Trunk Club, Nordstrom's personal styling service, allows you to view your picks before they ship and return what you don't want, for FREE. If you have a Nordstorm store nearby, you can arrange alterations there. There is a premium box option that might be especially helpful for a college student who will soon enter the working world.
3. A Spreezabox is a fun and affordable way to help the teen or young man in your life build his professional wardrobe. Each month he can choose from fashion, lifestyle, and grooming packages and keep the entire box (valued around $100) for a flat monthly fee of under $30.
4. Specializing in t-shirts featuring popular movies, T.V. shows, and video games, a Loot Tees subscription would be perfect for fans of pop culture.
5. Thanks to Foot Cardigan, it's possible to gift a fun sock subscription. With the option of 6 and 12-month plans, you can send one or two new pairs every few weeks.
6. And for the athlete or fitness buff on your list, Gainzbox specializes in fitness wear.  
Jewelry
7. The Pura Vida Jewelry Club is a subscription box that includes two exclusive bracelets every month. Sign up for 1, 6, or even 12 months for what would be an amazing gift from this VERY popular jewelry and accessories line. The teen girls on your Christmas list might love this thoughtful gift.
Snack attack packs
Whether you want to be sure your teens have healthy snacks or fun treats, there's a subscription box for nearly every kind of craving.
8. CampusCube If you're looking to gift a monthly pick-me-up to a college student, CampusCube is the way to go. They offer several care package plans and themes to choose from including a regular monthly snack box with a gluten and nut-free, vegan option. Plus, there are wellness and birthday boxes. To seal the deal, their quality and customer service are both terrific, too. 
9. For your sweetie with a sweet tooth, check out Candy Club. Not your basic vending machine snacks, Candy Club partners with small artisans and well-known candy companies to fill each subscriber box with a variety of high-quality products.  
10. For more health-conscious teens (or parents) Love With Food offers boxes of organic or all-natural goodies. Also, with every snack box, Love With Food donates at least one meal to a family in need through a partnership with Feeding America.
11. Urthbox will ensure your vegan or gluten-free kid has plenty of munchies on hand.
12. If you can't decide between a treat pack or healthy snacks, get both with a KIND Bar subscription and save 10% on this popular and high-quality go-to. Free sample with every recurring order.
13. Universal Yums is super fun and a unique snack subscription that specializes in snacks from around the world. It also includes an "adventure guide" with trivia and recipes.
14. Snack Nation is a monthly subscription box service that has a variety of offerings including this option of 15 snacks of healthy-ish bars, nuts and seeds, chips, jerky, and sweets. For every box delivered, a healthy meal is donated to a family in need through their partnership with Feeding America. They have already donated over 17 million meals!
15. If your teen or college student likes all the snacks — sweet, salty, and savory — the Snack Sack box is also one to consider. One of Cratejoy's Best of 2021 boxes.
Boxes for book lovers
When it comes to book boxes, many come with something extra to enhance the entire reading experience.
16. Owl Crate, specializing in middle grades and YA fiction, offers a theme-based box filled with bookish goodies, such as mugs, stickers, and stationery, related to each month's novel. There's also a handwritten letter from the author and a monthly magazine.
17. Older or more sophisticated teen or college-age readers might enjoy a monthly or quarterly box from My Coffee and Book box. Order two new hardcover books in your favorite genre + 12 oz of whole or ground coffee.
18. In addition to a book and other fun items, The Bookish Box subscription includes a book-themed t-shirt.
19. And for anyone who really savors nights at home with a good book Peace and Pages offers book boxes that also include luxury bath products and aromatherapy items.
Beauty and self-care boxes
Like the rest of us, teens and young adults can always use a little pampering. 
20-21. Both Ipsy and Birchbox offer monthly goodie bags or glam bags containing makeup and skincare products, but Birchbox even offers a subscription service that features grooming products for men. Teens love trying new beauty products.
22-23. You can also sign your son up for a subscription service through Gillette or Harry's for his manly grooming needs. Harry's donates 1% of sales to charitable organizations that provide quality mental health care to men. We love that! 
24. When you sign up for a FabFitFun membership, you (umm, I mean your teen) will get a seasonal box filled with 8-10 full-sized pampering products valued at over $200.
Subscribe to an Annual membership & receive a free bonus box! Use code YOURBONUS
25. Walmart Beauty Box: This box includes beauty samples and products sold at Walmart. This box is sent seasonally, four times a year and only costs $6.98 for each box.
26-27. For teen and tween girls' feminine needs and more, consider a subscription to Bonjour Jolie, or Kali.
28. Read, Relax and Recharge by Introverts Retreat after a stressful day at school and/or work, your teen or young adult might love this subscription. Each box includes a novel, a sweet snack and beverage, and an introvert-themed candle, bath salts and soap. A Cratejoy's Best of 2021 winner.
Boxes for thinkers and feelers
There are a variety of subscription boxes that are both gifts to your teen or college student and contributors to an important cause.
29. A Say it With A Sock subscription also helps provide for the homeless — including clean, warm socks.
30. Offering quarterly and yearly boxes, an Alltrue subscription contains over $200 dollars worth of ethically sourced, fair trade items such as cosmetics, jewelry, and home decor pieces.
31. Fair Trade Friday boxes feature similar items made by impoverished women, but FTF also offers a monthly earring box for $12.99 and a monthly bracelet box for $14.99.
Outside the Box Boxes
Finally, here are a few subscription boxes for the most hard-to-buy-for teens on your list.
32. For $14.95 a Scentbird subscription provides your son or daughter with a new fragrance of their choosing each month.
33. For your artsy and crafty teen, check out Sketchbox which provides both the supplies, instructions and the inspiration for creating craft projects that result in amazing works of art.
34-36. Also, look into these subscription boxes from Cratejoy — the Palleteful Packs, the Craftsmen Crate, and the Inky Box.
37-38. Of course, you can never go wrong with a gift subscription that gives to the whole family like this board game subscription from Unbox Boredom or Escape the Crate, a Cratejoy's Best of 2021 Cratejoy's crate.
39. Bark Box — does your family have a new puppy or older dog who has become the center of your family's attention? Bark Box will send a box of toys, treats, and chews every month. Now, get this FREE advent calendar filled with 25 days of treats for your pampered pet.
With so many types of subscription boxes to choose from, you'll likely find at least one that would be perfect for each member of your family. And maybe even one for yourself too! 
40. Winc Wine Subscription Boxes – for your over 21+ young adults, consider a subscription to Winc wine. Now, take advantage of an Early Black Friday Special! Get 4 Bottles for $24.95 + free shipping
More Subscription Boxes are on Amazon — every price, every interest imaginable.
More to Read: