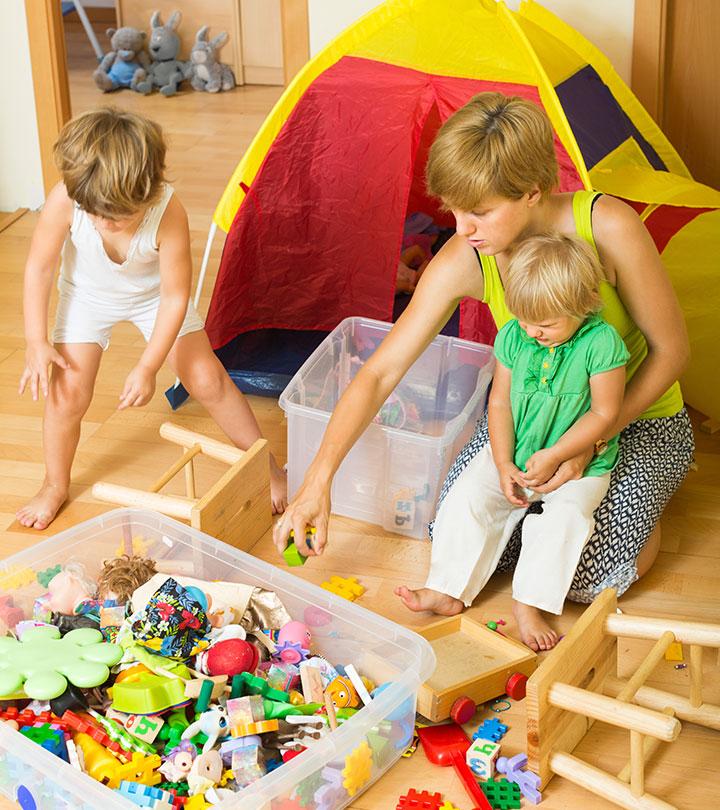 Toys are no longer distraction tools for children. They help in the child's all-round development. Toys can help in your child's cognitive development and physical growth, improving their motor skills (1). When you think of toys for your kids, the first thing that comes to your mind is to arranging and storing them systematically.
Here are some creative and fun ideas for your kid's toy storage.
45 Kids Toy Storage Ideas
1. Floating shelves
Floating shelves can not only provide a classy look to your home but also make a great storage space for your children's toys. With the toys on the display, it can provide easy access.
2. Under the bed storage
With an active childm you may need more room to play around and move freely and limit any extra furniture that causes hindrance. Built-in drawers under the bed can be an ideal space-saving storage for your child's toys.
3. Garden baskets
You can easily buy them or recycle your existing garden baskets into hanging storage for the toys. Children can pop their toys in the storage baskets. These are especially helpful for stuffed toys.
4. Lay-n-go mat
For small toy pieces, the lay-n-go mat or bag is a good solution. This bag does not take a lot of space and can be opened up into a flat mat on which your child can sit and play.
5. Modern toy storage bench
Nothing is better than having a two-in-one piece of furniture for better utilization of your space. A modern toy storage bench is something you can buy for your child's room that could provide a comfortable sitting space and hidden storage.
6. Hammock
As unusual as it may sound, it provides a stylish yet space saving storage for your children's toys. You can hang these on the walls where children can put their toys with ease of access. Hammocks can add a creative look to your child's bedroom.
7. Rolled away side table
You can use the bedside table nfor lamps and other stuff. You can add a sliding box underneath that rolls inside when not in use. Children can use it for storing toys that they play with the most since it is easily accessible.
8. Hanging clothes organizer
Your at-home hanging organizer used for clothes can also be easy storage for toys. These,hanging inside-the-closet organizers provide more space in the bedroom and are useful as storage for board games and craft supplies.
9. Cardboard rolls
This can be a unique and creative way to store small toys, particularly toy cars. Wooden crates with cardboard paper rolls fitted inside can make multiple mini sections inside one storage space. Children can park these toy cars in their own, personal garage.
10. Wooden crates
If you like to get creative, try building a shelf out of the old wooden crates. These wooden crates can be polished and reused for storing your kid's toys. Plastic baskets can be placed inside for a more organized look.
11. Ottoman storage
These are comfortable low-rise couches that are hollow from the inside. Ottoman can offer hidden storage for toys without compromising on the room's decor.
12. Hanging pockets
If you have good weaving skills, try hanging pockets. A woven hanging storage pocket for your child's toys is a creative way to decorate the walls and store art and craft supplies orstuffed toys.
13. Ball corral
These storage spaces are ideal for basketball, football or big toys that otherwise take up a lot of space in the room or the drawers. Instead of the balls rolling around the house, you can drop them into the ball corral.
14. Hanging crates
Besides using them as shelves, you can also cut the wooden crates into smaller boxes and stage them onto the walls to give the look of a hanging shelf. These can be used to store toys, such as stuffed animals, and toy cars.
15. Garden baskets
Garden baskets are another space-saving idea for storing stuffed toys. These sometimes come with lids which can then be stacked on top of the other to save space.
16. Laundry baskets
You can reuse the laundry basket and place them in the room's corner for your child to put in their toys . You can also label them to make it easier for your child to pick the toys without rummaging through all the baskets.
17. Rolling carts
These fun rolling carts can be moved around the house. With rolling carts, children can drag their toys wherever they go.
18. Artistic shelves
Shelves with doors containing picture frames can be a unique and stylish addition to your child's room. Theseserve the purpose of toy storage, and can also help you capture your child's pictures without taking additional space on the walls.
19. Bookshelves
Bookshelves can be multifunctional. Besides books, you can also store your kid's toys in an organized manner and label each shelf.
20. Bucket storage
You can label different buckets and align them in the room. This will help your children put the toys in the designated buckets and find them easily when needed.
21. Hanging buckets
Metal buckets can prove to be versatile storage spaces. You can paint them according to your preference and hang them on the walls.
22. Clear or see-through bags
These can be easily made and are also inexpensive items. The see-through bags help in identifying the required toy without having to go through the entire bag. These are not only a space saving option but also offer easy-to-carry toy storage.
23. Clothes/coat hooks
These are ideal for stuffed animals. You can also put the toys in bags and hang them on the hooks. These will give more space in the room and help you organize better.
24. Closet storage
Closet space can be used for various purposes. Besides hanging clothes, you can also store toys in the closet shelves. You can use baskets to make more room for toys and store them inside the closet in an organized way.
25. Floating shelves
Investing on a hanging wall storage can be a good idea. This way you can free more space on the floor and also give a stylish look to your child's bedroom.
26. Old trunk storage
If you have an old trunk or a box, you can use them to store some toys. This not only gives an antique look to the design of the bedroom but also keeps the memories, associated with it, alive.
27. Storage pouches
The storage pouches come in different sizes and have a see-through window to help locate the toy. Children can easily carry it in their bags without having to hold any extra luggage.
28. Built-in cubes
A stylish addition to your child's bedroom can be cube shaped shelves built into the walls. This can save floor space and create an organized toy display for your child to choose from.
29. Beach bags
When it comes to organising your child's toys, you can use anything that helps you clear the clutter from the bedroom. Beach bags are a creative way to do that. You can label and hang them behind the door or on the walls.
30. Toy house storage
Using a toy to store other toys can be one smart storage solution. There are many tiny toys that your child may lose or misplace. A doll house or a house-shaped shelf can be used to store other small toys to save up space.
31. Lego toy box
You can add a modern touch to the plain storage containers or boxes by making a lego look-alike box. The box remains the same, but lid would look like that of a lego. It can be a fun addition and your child may always remember to put the toys back into the "lego box".
32. Floor compartments
These are effective for wooden floors. You can build hidden storage into the floor with easy accessible doors. This provides for a classy and creative storage design without compromising on the room's decor.
33. Shoe racks
These can be useful in storing small toys like barbies, stuffed animals, and action figures. These hanging shoe racks are an ideal storage space with easy access.
34. Milk crates
Like wooden crates, you can also be creative with the stacked milk crates for toy storage. You can either place them on the floor or fix them on the walls like hanging shelves.
35. Plastic containers
Plastic containers come in different sizes and the see-through feature makes it easier for your child to pick the right box as and when needed.
36. Mesh hangers
This is yet another inexpensive and easy option for storage. You can put the toys your children don't use frequently and hang them in these mesh hangers. This can save up the unnecessarily occupied space on the floor and the shelves.
37. Tilted storage shelves
Tilted shelf give a modern touch and can provide ease of access too. This way children do not have to pull or slide the drawer or take out the boxes every time they need a toy. They can easily find and pick one from the tilted shelves.
38. Loft bed storage
Loft beds offer a good amount of space for the toys. These can serve a dual purpose for your children. You can store the toys under the stairs of these beds, either by putting them under or placing them in a toy organizer.
39. Roof toy hangers
The toy basket hangers can be hung in a pulley system from the ceiling and whenever required, children can pull the ropes to bring the basket down. This is more suitable for lightweight toys.
40. Art desk storage
An art desk with built-in storage for the toys, stationery and other supplies can be an all-purpose space for your child. This can also give a more organized look to the bedroom.
41. Sliding racks
Sliding racks underneath the cabinets and couches can be a good utilization of space and convenient for storing things, such as a board game, and a toy car.
42. Built-in shelves
When it comes to storage for kids' toys, the classic built-in wall shelves cannot be missed. These are a good utilization of the otherwise blank wall.
43. Toy chest
These can be of different sizes and you can customize them according to your child's preferences. This will help in keeping all the toys in one place, even their treasure chest.
44. Bedside sling
This can be a convenient storage option for the toys your child uses frequently. One can easily pick from the sling even when lying on the bed. A bedside sling is also useful for those without a bedside table.
45. Vertical shelves
A smart space-saving option, ideal for small bedrooms. You can categorize and store different toys on a single shelf with this vertical shelving option.
These space-saving ideas can not only help you but also encourage your children to stay organized. Ready to declutter and revamp your child's bedroom with these tips and tricks on toy storage ideas.
References:
MomJunction's articles are written after analyzing the research works of expert authors and institutions. Our references consist of resources established by authorities in their respective fields. You can learn more about the authenticity of the information we present in our editorial policy.
The following two tabs change content below.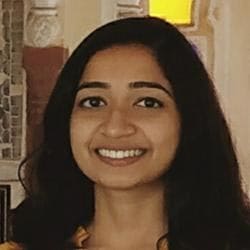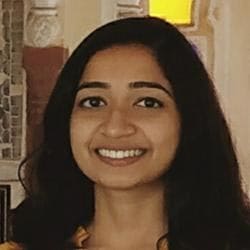 Deepa Rachel Thomas holds a master's degree in English from the English and Foreign Languages University, Hyderabad. She has experience editing academic content for research scholars, reviewing the work of several B2B clients, and working closely with fiction/non-fiction writers. She worked as a mentor for young children at an NGO that focuses on helping children develop their language and soft… more