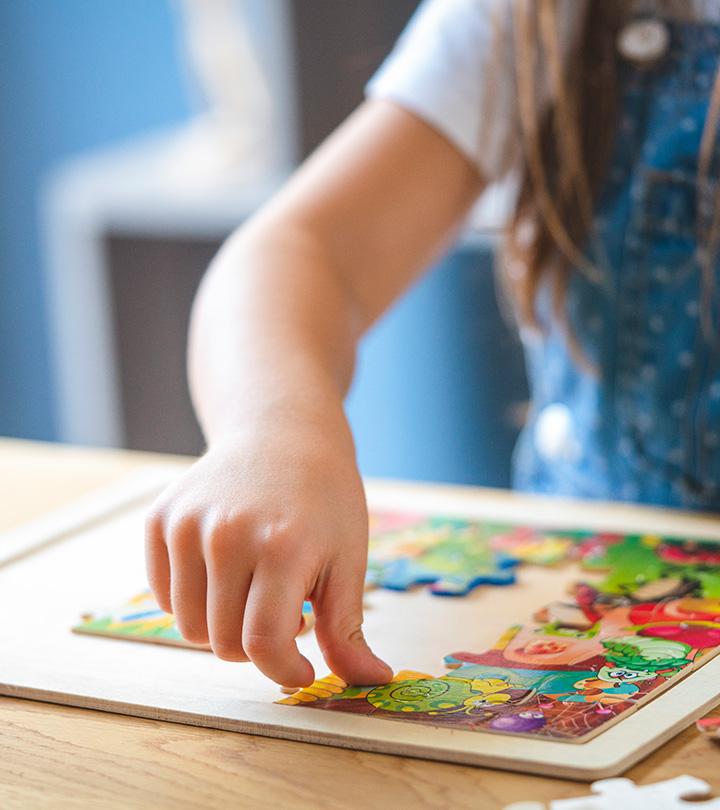 If you are looking for fun learning tools for your little one, try puzzle games. They give them a chance to exercise their brain cells and encourage lateral thinking. While solving puzzles, children also tend to develop useful skills such as perseverance and patience. A puzzle game can also improve your child's cognitive and communication skills. We have made a list of the most interesting puzzle games for kids that may help them boost their creative intelligence.
17 Puzzle Games For Kids
1. LogicLike: Brain Teaser Games
Challenge your child's thinking abilities with LogicLike. There are over 2,500 games, including puzzles, riddles, math problems, logical tasks, and memory training. The players can complete levels to earn stars and rewards. There are also secret collections to unlock and use. And as the player advances in the game, its difficulty level increases.
Age group: 3 years and above
Available on: Android and iOS
2. Camelot Jr.
Camelot Jr. is a smart game consisting of wooden pieces such as towers and stairs. Using these pieces, each player has to create a path for the knight and princess to meet. As there are multiple ways of creating a path, this game can keep your child busy and entertained for as long as they desire to play.
Age group: 4 – 9 years
Available on: Amazon
3. Coco – Educational Games
Coco is a fun educational game for children, available in both English and French. It features multiple brain teaser activities, including math, mental math, puzzles, and memory games. This app offers subscriptions for an individual and institute as well.
Age group: 5 – 10 years
Available on: Android and iOS
4. Portal 2
Portal 2 is one of the best puzzle games for kids. It allows players to use the Portal Gun with which they can create passageways to different portals. This is a good game for older children and teens. You can team up with your child in the co-op mode and run separate campaigns if they are too young.
Age group: 10 years and above
Available on: Portal_2
5. Super Puzzle – Jigsaw Puzzles for Toddlers
Super Puzzle is a fun jigsaw game in which all the pieces have to be arranged in their correct position. Try this game to improve the hand-eye coordination and logical thinking ability of your child.
Age group: 2 – 6 years
Available on: Android and iOS
6. Inventioneers
If your little one enjoys experiments and building new stuff, they may love this game. It features cute little Inventioneers that assist your child in innovating fun things. Each level has a problem, and children have to think of innovative solutions to resolve the issue. It offers both free and paid versions.
Age group: 2 – 6 years
Available on: Android and iOS
7. Kids Jigsaw Puzzles
Kids Jigsaw Puzzles features various shapes such as triangles, circles, and squares. These shapes transition from simple to complex and abstract patterns. Whether your child is a pro or a novice at jigsaw puzzles, they are sure to love this game.
Age group: 3 – 8 years
Available on: Android
8. GNOG
For children who love tinkering with gadgets, GNOG is an excellent game. The 3D tactical puzzle game allows players to move through different levels by manipulating a robot head in a specific order. As you progress, the pieces and characters of each robot head will become harder. It also offers fun rewards for clearing each level.
Age group: 6 years and above
Available on: GNOG
9. Pinkfong Kids Puzzle Fun
Pinkfong is a popular game for toddlers. "Baby Shark Doo Doo" is their creation, and most children enjoy products associated with this brand. The app features various animal puzzles to intrigue your little ones while improving their fine motor skills.
Age group: 2 – 4 years
Available on: Android and iOS
10. Transport Jigsaw Puzzles HD
If your child is obsessed with cars and automobiles, this game is perfect for them. Apart from solving various jigsaw puzzles, your child can also develop logic and vocabulary skills. Furthermore, there are puzzles starting from as low as just two pieces ensuring even very young children can solve them easily.
Age group: 2 – 4 years
Available on: Android and iOS
11. Pikuniku
Pikuniku is a cute game about a creature called Piku who lives in a cave and helps people. However, Piku has to overcome the threats and challenges posed by Mr. Sunshine, who seems helpful outwardly but might have an ulterior motive. The game is designed to guide the players through puzzles.
Age group: 5 years and above
Available on: Pikuniku
12. Puzzingo
Puzzingo is a straightforward game for toddlers to drag and place things in the right positions. Apart from jigsaws, there are also numbers and letters for the children to learn. To make it more appealing for children, the developers have included animal noises that are activated when the child touches the image of an animal. Children can also unlock newer categories as they play.
Age group: 2 – 4 years
Available on: Android and iOS
13. Toddler Puzzle Games for Kids
This toddler app includes many jigsaw puzzles, dot-to-dot puzzles, and coloring sections. It appeals to preschoolers as they learn to think logically. It also improves their fine motor skills, visual closure skills, and hand-eye coordination.
Age group: 2 – 6 years
Available on: iOS
14. Jigsaw Puzzles Real
If you are looking for a jigsaw puzzle that suits you and your child, this one's for you; there are jigsaw puzzles for everyone. There is no way a player can cheat in this puzzle, making it a lot more fun. The player has to solve the puzzle with patience and logical thinking. The best part of this app is that you can create your custom jigsaw puzzles with the photos in your library.
Age group: 5 years and above
Available on: Android and iOS
15. Flow Free
With its bright colors and appealing patterns, this game is sure to grab your child's attention. The game aims to connect the dots of the same color. However, while doing so, you must remember that you cannot intersect the path of another colored line. While the first few levels are easy, the difficulty increases as you move forward.
Age group: 4 years and above
Available on: Android and iOS
16. Winky Think Logic Puzzles
This game has difficulty levels ranging from basic for preschoolers to hard for adults. In some cases, it might take several days to solve a single puzzle. With several puzzles on offer, this game is a great investment for you and your child. Children learn to think logically along with improving their motor skills, spatial cognition, and observation.
Age group: 4 years and above
Available on: iOS
17. Einstein's Riddle Logic Puzzles
If your child enjoys solving Sudoku or crossword puzzles, they may love this game too. In this logic based riddle puzzle game, the players have to follow simple clues and arrive at the final answer. Though it seems simple, it requires quite some reasoning and deduction skills to get the answer right. You can compare your score with other players to build up enthusiasm amongst the players.
Age group: 10 years and above
Available on: Android and iOS
These puzzle games for kids are not just fun but they keep your child engaged in a constructive manner. Children get to learn many skills besides logical thinking and observation. These games also help your child in identification of various patterns and shapes, while building their memory power. Go, grab a puzzle now!
The following two tabs change content below.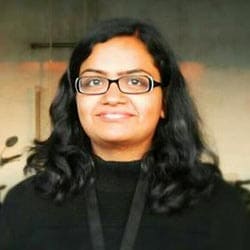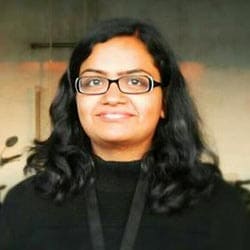 Nisha Bharatan is a freelance writer with experience in writing health and finance content for various Indian and international clients. An engineer by profession, she also did content marketing courses to complement her interest in writing. Nisha writes articles centered around kids' development, their activities, crafts, games, and fun elements that keep children and families entertained. Her research skills and experience… more