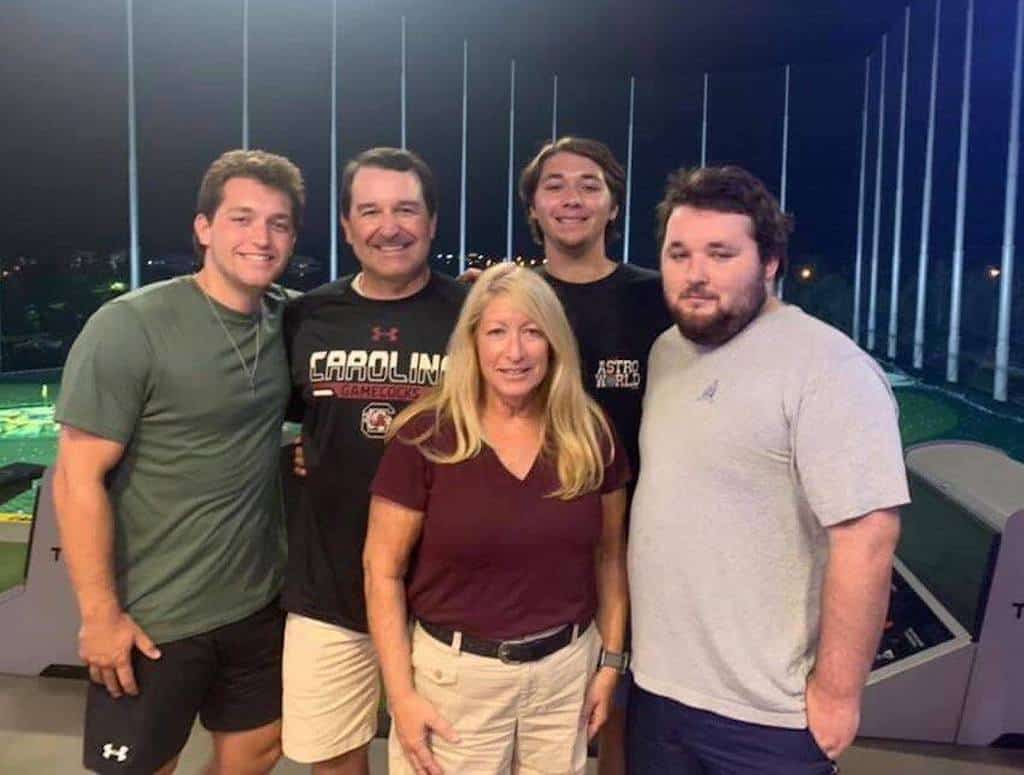 The Italians have a term for adult children living at home. Bamboccioni return to the nest largely due to the poor job prospects across the country. Here in the United States, we coined the term "Boomerang Generation" to refer to young adults who've lived on their own through college or other circumstances, yet return to their parent's home in their 20's.
But no matter how you phrase it, this is a universal reality with no better proof than our 22-year-old sleeping in his upstairs bedroom right now. And we wouldn't have it any other way. 
Author and family. (Maureen Stiles)
More adult children are now living with a parent than since the Great Depression
According to Pew Research, a staggering 52% of young adults were residing with one or more parent in 2020, the greatest number since the Great Depression. Surely the pandemic was a factor in this shift, but for us it was how we had always envisioned it. 
Both my husband and I lived at home as young adults in order to save money. In fact, after college, my husband stayed under his parent's roof until he bought and moved into his first home at 26 years old. As our children aged, we always let them know that the door was open for a temporary or long-term stay if they so desired. 
Our eldest was in his senior year of college, loving an on-campus internship and dreaming of graduation when the world ground to a halt in March of 2020. His return to the fold was abrupt but necessary and left his off-campus rental sitting empty. 
As it became apparent that he was home for the foreseeable future with no graduation ceremony or job in the offing, he made the trip back to school and moved out of his apartment for good.  Having lived on his own through almost four years of college as well as a summer internship in New York City, we knew he was capable of independence and so did he. 
My son's move home was not a failure
Thus, his move home was not borne of failure but rather an opportunity for him to successfully regroup without the pressures of rent and additional expenses. Because we had always discussed this possibility, it was more of a natural progression than a concession. 
He is now gainfully employed and working in my dining room with no intentions of moving out in the immediate future. And who can blame him? The local rental market is intimidating as well as the possibility of lay-offs if Covid-19 variants reach critical levels. According to an August 2021 Apartment Guide blog, there "appears to be a rise in apartment prices likely driven by demand. All unit types are more expensive than they were at this time last year in a majority of states." Which explains why many of my son's friends are living at home as well. 
Recognizing the advantages of this arrangement does not mean it is without inherent challenges. Our traditional roles have shifted in many regards. Parenting an adult child daily means there are no curfews, homework monitoring or worries about screen time. However, as an adult they have been on their own long enough to develop habits and a lifestyle that may not jive with yours. For instance, they may not keep house the way you do or have the same sleep and work patterns. 
Communication is the key to successfully living together
Communication is key. Expectations for becoming a contributing member of the household should be spelled out early on. For us, we ask only that he pay for his own gas and entertainment, keep his room and bathroom clean, share a car with his brothers when they are home from school and run an errand or two if needed. Others may require an adult child to offer monetary contributions or relief with childcare for younger siblings. There is no wrong way to manage this new family dynamic. 
With mutual respect, this time of togetherness can be a blessing. Having our oldest here has launched us into "Empty Nesting Light" and eased our transition with two other kids in college. I have the privilege of listening to my son through his work interactions and marveling at his maturity and professionalism.
On the other hand, he still asks me to watch Tik Tok and YouTube videos daily, so I know that little boy is still in there looking to share his world with me. He and his dad watch football games on the weekend and yell at the television in unison even if his tutorials on Fantasy Football make us feel old and out of touch. 
Most importantly, we are here as he ponders his future with a world of possibilities available to him. Of course, we encourage him to explore and follow his dreams, knowing the dream will eventually take him out from under our roof. 
When the time comes, we will send our boomerang off with the knowledge that home is not just brick and mortar but an emotion. An emotion he will carry into the world to ground him in the knowledge that our door swings wide and welcoming whenever the winds blow him back around. 
More Great Reading:
You Know You're a Adult When These Things are True
Remember These 7 Things as Your Young Adults Move Out for Good