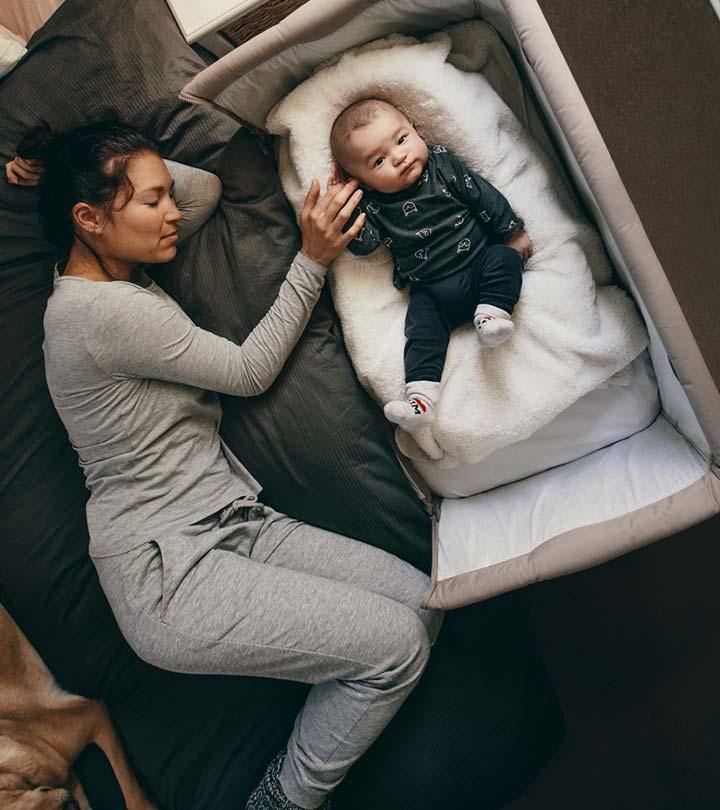 A sleeping baby is the new happy hour. To enjoy this happy hour, parents need to ensure babies have a safe and sound sleeping environment. The American Academy of Pediatrics highly recommends having a safe sleep environment for babies. A bassinet can come in handy to put your newborn to sleep because it has been shown to reduce the risk of sudden infant death syndrome (SIDS) and sudden unexpected death in infancy (SUDI) (1). However, getting a baby to sleep in a bassinet can sometimes be difficult as they become fussy while in the bassinet.
This post may help you figure out how to get a baby to sleep in a bassinet. Also, here are a few safety guidelines to follow while your baby is in the bassinet.
Reasons Why A Baby May Not Want To Sleep In A Bassinet
There might be more than one reason why your infant is fussy about being in a bassinet. Some common reasons are listed below:
Moro reflex: This kind of reflex happens when you try and put your baby in the bassinet after they fall asleep. It is also known as startle reflex as your baby might wake up from their sleep cycle and become fussy (2).
Not comfortable: Babies find it uncomfortable to sleep in a bassinet as the mattress is hard and might need some time to adjust to it (3).
Habit: If your baby has had the habit of falling asleep in your arms or while being swaddled, then the transition to a bassinet can be difficult for them.
Overtired: If your baby has been awake for too long past their daily sleep routine, then they can become fussy or irritable and not fall asleep as easily (4).
Undertired: in case your baby isn't tired enough to fall asleep again, it will be difficult for you to put them to sleep in the bassinet. Hence, try and maintain a sleep schedule.
Ways To Get Your Baby To Sleep In The Bassinet
Once you have figured out the probable cause why your infant is fussy about falling asleep in a bassinet, you are one step closer to the solution. Here are some suggestions that may help you get your infant to sleep in their bassinet.
Try swaddling your baby for a while and put them down in the bassinet when they are starting to fall asleep. This will help prevent the startle reflex of putting them down all of a sudden after they are asleep.
Make sure to change their diaper before you put your baby to bed to avoid them from waking up in between, as babies are light sleepers.
Adjust the room's temperature according to the comfort of your baby to create a sound sleeping environment. Having a comfortable temperature will help them to fall asleep easily.
Dress them according to the temperature to avoid irritability and feeling uncomfortable.
Monitor their hours of sleep to make sure that they are not over or under tired while you are putting them to sleep (4).
While putting your infant down for sleep, keep the room as dark as possible and have white noise. It will help them fall asleep easily. You may use a dim night light, but avoid keeping the overhead lights on.
Keeping your baby in the bassinet for short periods while they are awake will help them get used to the space and reduce the fussiness while going to sleep in it.
Bassinet Safety Rules For Babies
A bassinet is a safe place for an infant to sleep as it helps prevent sleep-related infant deaths and SIDS. It also gives the mother a chance to have some time for herself and attend to her needs. The CDC recommends the following guidelines to ensure safe sleep for infants (5)
Always place your baby on their back while putting them down to sleep.
Use a firm surface and a flat crib mattress covered by well-fitted bassinet sheets for placing in the bassinet.
Always keep the bassinet in the same room where you sleep. Having the baby sleep in the same room beside your bed makes it easier for you to feed and comfort them whenever necessary.
Do not place any additional pillows or loose blankets in the bassinet while the baby is sleeping as it might be uncomfortable for them and also make them feel excessively warm. Keeping the bassinet spacious also gives room for gentle movements.
Always create a safe sleep environment for your baby to avoid chances of suffocation, discomfort, or sleep disturbances.
Frequently Asked Questions
When should a baby start sleeping in a bassinet?
The ideal age for babies to start sleeping in a bassinet would be between three and four months.
Can a baby sleep in a vibrating bassinet?
It is safe for babies to sleep in the vibrating bassinet (6). But the frequency of the vibrations should be kept to a minimum, not to cause any discomfort to the baby.
Can a baby sleep in a pack and play bassinet?
Yes, a baby can sleep in a pack and play bassinet, also known as a portable crib. They meet the regulatory standards issued by the US Consumer Product Safety Commission (CPSC) and can be used for infants weighing up to 30 pounds and less than 35 inches tall (7).
Initially, it may be difficult for your baby to start sleeping in a bassinet. However, with the help of some tips and giving some time to the baby for adjustment, you can eventually shift your baby to a bassinet and follow healthy sleep habits.
References:
MomJunction's articles are written after analyzing the research works of expert authors and institutions. Our references consist of resources established by authorities in their respective fields. You can learn more about the authenticity of the information we present in our editorial policy.
The following two tabs change content below.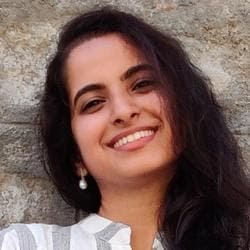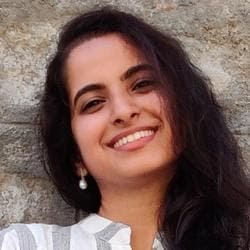 Sanjana did her post graduation in Applied Microbiology from Vellore Institute of Technology, India. Her interest in science and health, combined with her passion to write made her convert from a scientist to a writer. She believes her role at MomJunction combines the best of both worlds as she writes health-based content based on scientific evidence. Sanjana is trained in classical… more