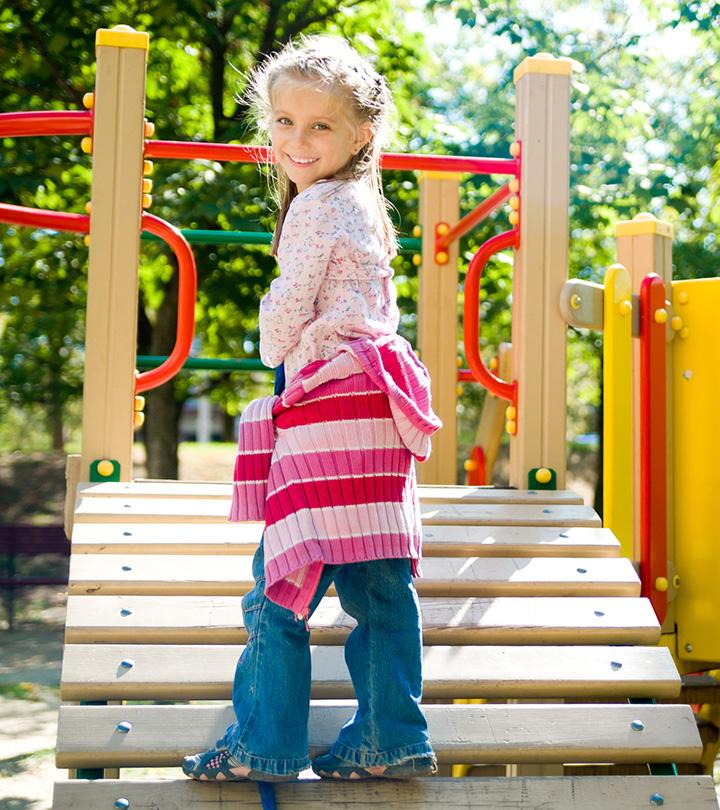 Being outdoors can be such a joyous feeling. A breath of fresh air, some fun toys or activities, and a little mess can keep children engaged and entertained for a long time. Moreover, outdoor play can help children improve their learning skills, promote sound sleep, aid in developing better social relationships, and grow up to be risk-takers. Considering the several benefits of outdoor activities, the Nemours Health and Prevention Services recommends 30 minutes of structured physical activity and 60 minutes of unstructured play each day. (1).
Planning an outdoor activity for children can be easy and fun. It does not require too many things and gives ample scope of creativity. Preschool children mostly enjoy activities, such as throwing, scooping, building, and exploring, so they may come up with simple activities based on their interests.
Keep reading to find a list of interesting outdoor activities for preschoolers.
27 Outdoor Preschool Activities
1. Washing a favorite toy
You will need:
A large tub of water
Shampoo
How to:
Add some shampoo to the tub of water.
Drop your child's favorite toys in the tub.
Now let them wash their favorite toys in soapy water as long as they like.
It is a fun summer activity that children may enjoy.
2. Sort colored balls
You will need:
A large tub of water
Kitchen utensils to hold the balls
Cups
Colorful balls
How to:
Drop the colored balls in a tub of water.
Give cups to children to scoop out the balls from water and transfer them to other utensils.
Children may get creative and sort these balls according to their favorite colors.
This fun idea helps preschoolers develop scooping and sorting skills.
3. Erase the pattern
You will need:
How to:
On a plain outdoor surface, draw shapes, alphabet, or numbers.
Ask children to erase it with a paintbrush dipped in water.
While they have fun erasing all that you have written, they may start grasping the patterns too.
This fun activity can be used to teach numbers, alphabets, or patterns to preschoolers.
4. Paint the cardboard
You will need:
A big cardboard box
Paintbrush
Paint
How to:
Give children a big cardboard box and some paint.
Allow them to experiment with painting and make the box colorful.
They would have loads of fun playing with their unique creation.
5. Jump in muddy puddles
You will need:
How to:
Children enjoy getting messy, so if it has rained recently and there's a puddle outdoors, get them to wear their boots and head outside.
Toddlers can have tons of fun jumping in muddy puddles.
This activity involves lots of cleaning up later on.
6. Scavenger hunt in the nature
You will need:
How to:
Accompany your preschooler on a scavenger hunt.
Encourage them to look for unique items from nature and collect them in their bags.
Make the activity interesting by asking children to collect flowers, stones, or twigs in various colors, shapes, and sizes. They may also pick anything that intrigues their curious mind.
7. Build a pyramid
You will need:
Different shapes and sizes of twigs
How to:
Preschoolers may enjoy building activities. Head outdoors and collect twigs of various shapes and sizes along with your children.
Now let them build a pyramid with the twigs.
Make this activity educational by talking about the different shapes, colors, and textures of twigs.
8. Knock over empty can towers
You will need:
How to:
Bring out all the empty cans and build a tower.
Make the child stand at a distance and aim at the can tower with a ball.
Children can feel a great sense of achievement when their ball hits the aim and the tower breaks.
This fun activity allows children to develop better concentration and aiming skills.
9. Create patterns
You will need:
A few random sticks, stones, and flowers
How to:
Encourage your child to make different patterns using sticks, stones, flowers, and other natural objects.
Children may use their creativity to come up with out-of-the-box ideas and design unique patterns.
This activity also focuses on building pre-math concepts.
10. Fly paper airplanes
You will need:
How to:
Flying paper planes are fun.
Craft some airplanes with colorful papers and let children fly them in the open.
Running behind flying airplanes can be a good physical activity too.
11. Hunt for the alphabets
You will need:
How to:
Hide the foam alphabets at several places in the garden.
Ask children to go on an alphabet hunt. As they find the alphabet, they recognize it and put it back in the alphabet basket.
This is a fun way to teach letters and alphabets to preschoolers.
12. Make a dreamcatcher
You will need:
How to:
Children will need an adult's help to do this activity.
Tie different sticks and twigs together to make a hoop.
Then, make a simple net-like pattern by weaving the yarn across the hoop.
Finally, hang some stones and leaves from the hoop using the yarn.
13. Jump in the hoop
You will need:
How to:
Most kids are fond of running, jumping, hopping, or any other physical activity.
Arrange the hula hoops in an outdoor area.
Explain instructions in detail and motivate kids to follow them. For example, if you say put one leg in the hoop, children should do that.
This activity is ideal for a group of children.
14. Make paint brushes
You will need:
How to:
Most toddlers enjoy using paintbrushes, but they might love them more if they make them independently.
Help children collect soft twigs from the garden.
Crush one end of the twig with a stone and flatten to form a brush. This also loosens up the strands replicating a real paintbrush.
Children can now use their natural paintbrushes in their artistic creations.
15. Make a fairy garden
You will need:
A small pot
Mud
Stones
Miniature toys
Small, low-maintenance plants
How to:
Take a pot, add mud, and a few plants.
Now, place some stones and toys around the plant to decorate the pot.
Making miniature gardens with young children can be a fun and satisfying experience.
16. Have fun with shadows
You will need:
Large white papers
Toys
Pencil or crayon
How to:
When the sun is bright, this activity can be entertaining.
Spread the white sheet on the ground.
Arrange some toys on the sheet so that their shadows fall on the paper.
Let children have fun with shadows by placing the toys in various directions.
Make them outline the shadow using a pencil or crayon.
Help them learn about the science behind shadows while doing this activity.
17. Hunt for color
You will need:
A paper with a list of colors
A pencil or crayon
How to:
Children carry their list of colors to the park or garden.
They look for objects that have the same color.
If they find such objects, they either draw the object or put a tick beside the color on their paper. For example, if children find a yellow flower, they will either draw a flower beside yellow or mark yellow on the paper.
18. Explore sounds
You will need:
A paper
A pencil or crayon
How to:
This could help preschoolers understand one of their five senses.
During their outdoor walk, children carry their paper and pencil along with them.
They listen to different sounds and note them down. Children may take the help of an adult while writing down.
19. Art with rain
You will need:
How to:
It could be a perfect outdoor activity if it is raining.
Draw dots or lines on the paper using markers.
Let the raindrops fall on the paper and wash off the color a bit.
Children can now sit back and enjoy looking at the different patterns made by rain.
20. Go on a picnic
You will need:
A mat
Finger food
Water
Hats
How to:
When the weather is pleasant, you may plan a picnic, and invite other children too.
Prepare some finger foods or snacks, such as pancakes, muffins, and sandwiches. Pack them in a picnic bag along with some fruits and a water bottle.
Now let children unwind and enjoy the picnic. You may also bring their toys and games.
21. Make volcanoes
You will need:
Baking soda
Vinegar
Red food color
How to:
Preschoolers may be fascinated by volcanoes.
Help them learn about volcanoes before doing this activity.
Take them to a park or garden and let them make a volcano using sand or mud.
Make a hole on the top of the volcano and add two tablespoons of baking soda, half a cup of vinegar, and some food color.
Don't forget to capture their surprising expressions when the volcanoes erupt.
22. Rubbing on surfaces
You will need:
How to:
This activity helps young children learn about the texture of various surfaces.
Let the children place their papers on different outdoor surfaces, such as the sidewalk, grass, or wall, and rub a crayon over it.
After the activity, let them observe how each surface leaves a unique design on the paper.
23. Create a nature bracelet
You will need:
How to:
Place a masking tape around your child's wrist by keeping the sticky part outside.
Children can go outdoors and find interesting objects, such as petals, leaves, grass, or anything that is appealing to stick on their tape.
Their self-made bracelets are ready.
24. Paint rocks
You will need:
Smooth rocks of different shapes and sizes
Water paints
Paintbrush
How to:
In this engaging activity, children should collect a few tiny and smooth rocks from the garden.
Then, they paint them in colors of their choice.
If your child is quite artistic, they can even draw some interesting patterns or designs on these rocks. Use them as paperweights or showpieces.
25. Fly a kite
You will need:
How to:
Kite flying is ideal for a windy day.
Get a kite and tie it with a sturdy and long string.
With the help of an adult, children can fly their kites high up in the sky and have lots of fun.
26. Bear hunt walk
You will need:
Surfaces with mud, water, and grass
How to:
This sensory activity has been adapted from the story, We're Going on a Bear Hunt.
Have children walk on watery, muddy, and grassy surfaces in the garden.
The walking activity may help preschoolers develop their sensory skills.
27. Nature collage
You will need:
A paper, collage book, or DIY cardboard frame
A thick book
How to:
Children can head outdoors and collect interesting items from nature, such as flowers, leaves, petals, grass, or anything they like.
After collecting these items, ask your preschooler to place them in a thick book to dry.
Once dry, they can paste these items on the paper, collage book, or a cardboard frame.
The options for outdoor preschool activities can be unlimited. It just needs the creativity of an adult to engage them in the right way. As they say, "Nature is the greatest teacher," let your children go out and explore to their heart's content. Outdoor activities can also help them develop a strong connection with nature, making them responsible and sensitive.
The following two tabs change content below.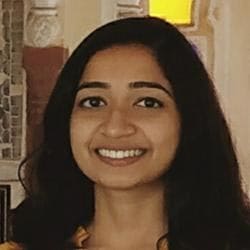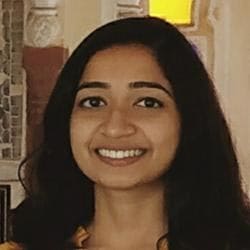 Deepa Rachel Thomas holds a master's degree in English from the English and Foreign Languages University, Hyderabad. She has experience editing academic content for research scholars, reviewing the work of several B2B clients, and working closely with fiction/non-fiction writers. She worked as a mentor for young children at an NGO that focuses on helping children develop their language and soft… more