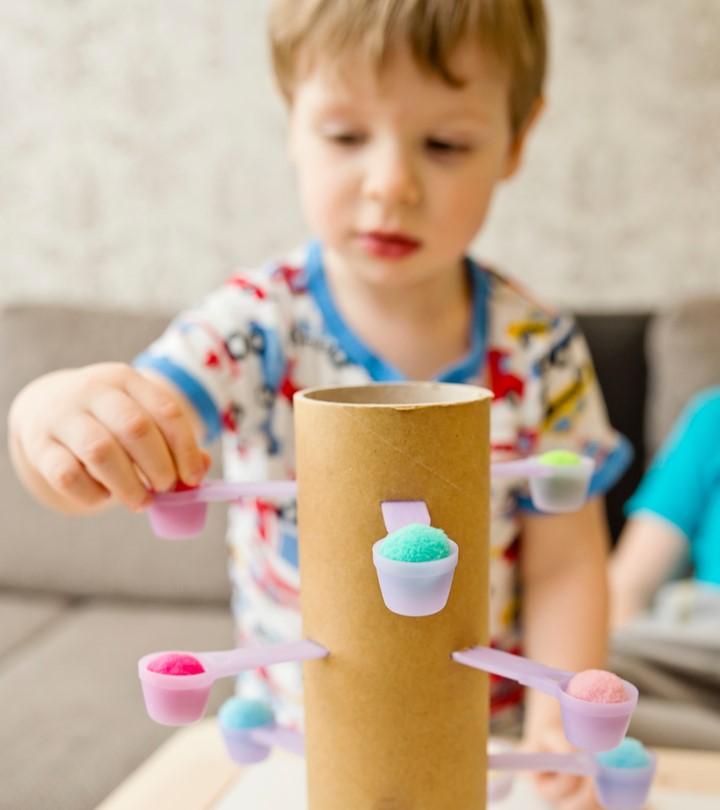 Sensory play is a set of activities that stimulate a child's senses and strengthens them. It involves any game or activity where the child uses touch, sight, taste, smell, and hearing to learn from their immediate environment (1). As babies step into toddlerhood at the age of 12 months, they can use additional two senses — vestibular (body balance) and proprioception (body movement) to improve their physical and cognitive milestones (2).
This post helps you understand sensory play, its benefits, and the various activities that let you initiate sensory play for your toddler.
Benefits Of Sensory Play For Babies And Toddlers
Sensory play begins right when the baby is newborn. Toddlers attain several physical milestones, which make them exercise all their senses through sensory play. Sensory play can provide infants and toddlers with the following benefits.
1. Support cognitive development
Sensory play helps improve the brain's processing of sensory information. It eventually helps build nerve connections, leading to better cognitive development. Sensory play also exposes babies and toddlers to new and different experiences. It ultimately encourages them to use multiple senses simultaneously, improving their ability to attain complex milestones, such as walking, in the long run (3) (4).
2. Enhances memory
Babies and toddlers can learn and remember skills better when coupled with a sensory cue. For instance, a toddler can learn to say a word when they hear a particular sound or see a particular image during an activity. Babies can recollect the activity in their routine when they hear a certain sound or see a particular object, such as a book, associated with it (5).
3. Stimulates development of fine and gross motor skills
A toddler exercises touch, vestibular (body balance), and proprioception (body movement) senses when participating in a sensory play activity. These senses involve the use of limbs to understand objects present in the vicinity. It helps stimulate the little one's fine and gross motor skills eventually.
4. Enables problem-solving, exploration, and creativity
Sensory play includes activities such as painting with hands and treasure hunt. Even role-play is said to be a type of sensory play for toddlers. These experiences stimulate creativity, curiosity, and problem-solving skills over time. This may help make the toddler more interested in topics, such as science, math, and fine arts, as they grow older.
5. Helps in language development
Babies and toddlers can understand letters better when they look at them. A toddler can learn how words sound when they hear them. Older toddlers can be taught how to write letters by drawing them in sand or clay with bare hands, allowing them to sense how it feels like to write the letter (6). Therefore, an adequate and right type of sensory play could help parents build a strong foundation for their child's language development.
6. Helps understand differences and attributes
Combining multiple senses enables children to tell differences between objects, words, sounds, and even people. It teaches your toddler to learn attributes of any subject, letting them adjust their behavior or reaction. For instance, if a rotating toy rotates clockwise, the toddler will not attempt to rotate it counterclockwise, indicating that the toddler understands the toy. If the toddler is shown an image of an animal, they will make the sound made by that animal, indicating an understanding of the animal.
7. Calms cranky babies
Certain sensory play activities could help calm a cranky or colicky baby. For example, touching bubbles blown in the air could calm an irritated baby. Crushing bubble wrap between palms could distract a colicky infant. Parents may try various sensory play activities to soothe their baby while also exercising the little one's senses.
23 Sensory Play Activities And Ideas
Parents may consider any type of sensory activity that they believe will work with their baby. Below are some sensory play activity ideas that you may consider for your child, depending on their age group (7) (8).
For babies (0-12 months)
Hang attractive hanging toys: Attach a colorful hanging object, such as a baby mobile, over your baby's crib for visual stimulation. Pick baby mobiles that also give out sounds to stimulate the baby's hearing. Make sure the baby uses it only when fully alert and under parent supervision. 
Use a mirror: Hang a baby-safe, unbreakable mirror on the crib and let the baby see himself/herself. Point at their reflection and ask them about it. Play games where you hold the mirror at an angle so that the baby can see the reflection of another person or object.
Provide lightweight rattles: By four months of age, babies can hold a toy and shake it (9). Provide lightweight rattles to your baby so that they can conveniently hold them and play.
Play in different positions: Lying on the tummy is the best position for a baby while playing. You may consider options beyond tummy time, such as placing the baby on their back and gently tapping on their sides, encouraging them to turn their body. Most babies can roll from back to front by six months, letting them exercise their vestibular (body balance) and proprioception (body movement) senses.
Touch gently: Gentle touch and tickle on the palms and soles is great for newborns. In fact, it could be a great way to see how the baby wiggles their toes and fingers when you stroke them. You may even use it as an opportunity to test notable reflexes, such as palmar reflex (grasping reflex) and plantar reflex (Babinski reflex).
Read a book: It is one of the best sensory play activities for babies and toddlers. Purchase a brightly colored book with attractive illustrations. Point at the illustration and name it. Then, say the illustration's name and ask the baby to point at it.
Sing and play music: Talk to your baby daily and sing songs to encourage listening. Get some baby-safe musical toys, especially those with buttons, and encourage the baby to press each button to make a different sound note.
Have skin-to-skin contact: Parents must have skin-to-skin contact with their babies, especially while feeding or sleeping. It helps develop a deep bond while also improving the baby's tactile sense.
Explore food textures: Place cooked food items, such as vegetables and fruits, of different textures in front of the baby and let them explore them with their bare hands. For instance, cooked apples will be soft while crackers will be hard. It exercises the baby's tactile sense and also improves their hand-eye coordination when they proceed to eat the food item.
Blow bubbles: Let your partner blow bubbles while you hold the little one. Point at the bubbles and encourage the baby to point and poke at them. Watch your baby giggle and frolic while playing with the bubbles. 
Paint with fingers: Purchase baby-safe edible paints or make some at home with fruit purees. Let the baby dip their fingers in the paint and draw on chart paper. Do place some plastic sheets around to make it easier for you to clean later.
For toddlers (12-36 months)
Play with playdough: Playdough is an excellent way to stimulate the tactile sense in toddlers. You may purchase baby-safe, food-grade playdough or make your homemade playdough with flour and food coloring since it is edible. Let the toddler knead and press the dough to make different shapes.
Sort toys: Involve your toddler in sorting the toys and placing them at the right place after playtime. You may provide them with baskets to color-coordinate with the toys' colors. It lets the toddler see the toy's color first and then match it with the right basket before placing the toy in it.
Discover the treasure: Place different plastic bins filled with different grains. Hide a toy within each and let your toddler find them. You may also hide fruits that your toddler may eat once they discover them. This activity is great for exercising touch and sight senses.
Walk in a straight line: Stick some tape on the floor in a straight line. Then, ask your toddler to walk in a straight line by placing their feet on the tape. This sensory play activity will help improve body balance and make for a fun time for the little one.
Play with bubble wrap: Stick a strip of bubble wrap on the floor. Give the toddler a toy car and ask them to move the car on the bubble wrap. The toddler will notice the bubbles popping under the toy car's wheels, making them intrigued due to the cause and effect.
Try virtual airplane: This is a popular sensory play for developing vestibular (body balance) and proprioception (body movement) senses. Lie on your back and make your toddler sit on your ankles. Then, raise your legs in the air. Be gentle and raise your legs only as far it is safe for you and your toddler.
Rock like a horse game: It is a subdued version of the virtual airplane game. Sit in a chair while your toddler sits on your legs. Move your legs up and down while making clicking sounds of horse's hooves. You may sway gently to help your toddler exercise their ability to maintain body balance.
Spend time with swings: Swinging is an excellent sensory play activity to stimulate the proprioception (body movement) sense. You can start small with a swing in your backyard or tire swings, and move on to advanced swings that one usually finds in gardens and playgrounds.
Roll and hop down a hill: Activities that involve jumping, pulling, and pushing help your toddler develop spatial awareness of their body (10). One of the best ways to try it is by rolling or hopping down a small grassy hill. Remember, your toddler must roll along the body's plane and not somersault. Pick a hill with a moderate incline and with no rocks or pebbles that could hurt the toddler. Make sure you stand at the bottom of the hill for assistance.
Taste test challenge: It is a suitable activity for older toddlers who can communicate fairly well. Prepare different purees and place them in front of the toddler. Ask them to use a spoon and taste each puree and guess its name or ingredients. Allow your toddler to smell the purees as well. You may reward the toddler with stickers or claps each time they get the name right.
Push a toy cart: Provide the toddler with a toy cart or any other toy that can be pushed. Pushing helps exercise vestibular (body balance) sense while also strengthening the toddler's core muscles. Make sure you stay around the toddler to support them and prevent any falls.
Throw or kick a ball: Take your toddler for a day out at the beach or garden. Give them a plastic ball that they can kick or throw, letting them maintain body balance while also improving hand-eye coordination.
Precautions To Observe During Sensory Play
Here are some precautions you must observe to make sensory play safe for toddlers.
Play when the baby is alert: Initiate sensory play when the baby or toddler is alert and active. Having playtime when they are tired, hungry, or unwell could make them lose interest in the activity. It will also be of no benefit to the little one.
Use baby-safe toys: Choose baby-safe toys and other paraphernalia for an activity. Using toys or objects not suitable for babies could increase the risk of injuries.
Never leave the child alone: Ensure that the baby or toddler has sensory play under the supervision of an adult. Do not leave the child with a sibling or alone. Staying around with the child could help prevent accidents, such as choking.
Baby-proof house: Place bumpers on the sharp edges of furniture items. Keep dangerous items, such as chemicals and sharp objects, away from the baby's reach. It ensures that your child has a safe environment while indulging in sensory play.
Do not let the baby sleep with toys: Despite the benefits of sensory toys, never let your baby or toddler sleep with them since these could be potential choking hazards. Once your child is done playing with the toys, remove them from the crib and place them at a designated place.
Sensory play is essential for your baby or toddler's healthy growth and development. You may try various age-appropriate sensory play activities, depending on your child's interest. Do not hesitate to experiment with different activities to see what elicits the best response from your little one. You may maintain a schedule of such activities to help your child reap maximum benefits in the long run.
References:
MomJunction's articles are written after analyzing the research works of expert authors and institutions. Our references consist of resources established by authorities in their respective fields. You can learn more about the authenticity of the information we present in our editorial policy.