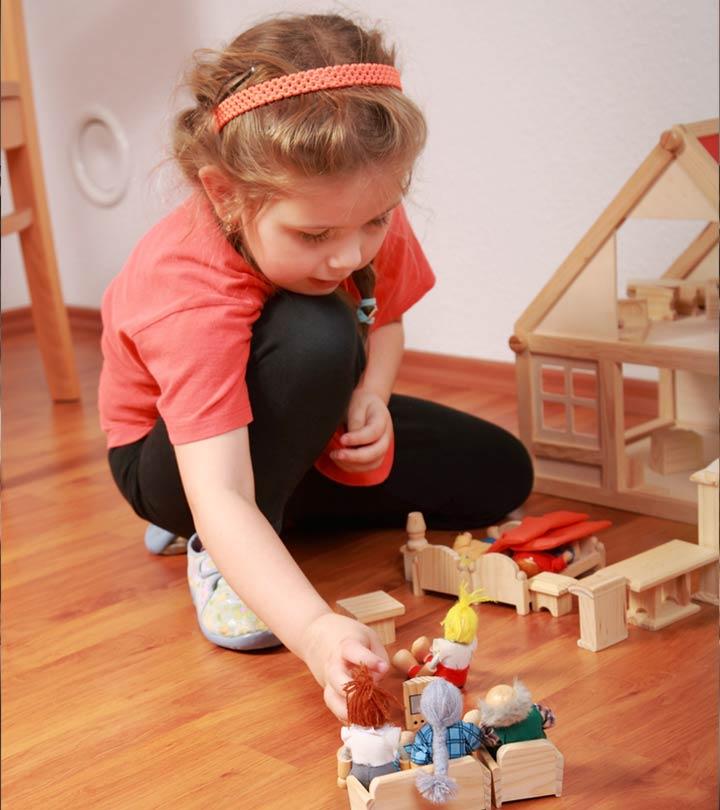 Lev Semyonovich Vygotsky, a Soviet psychologist known for his work on psychological development in children, believed that dramatic play for toddlers helps promote social, cognitive, and emotional development (1). When toddlers reach the age of two or three, they develop a strong interest in the activities of the adult world and want to be a part of it. This desire is fulfilled through imitation and exploration of social relationships in the form of dramatic play.
Read this post to know  about the importance of dramatic play for toddlers and a few interesting dramatic play ideas you may try.
Why Is Dramatic Play Important For Toddlers?
Dramatic play or pretend play helps build toddlers' social, thinking, and language skills (2). Engaging your children in dramatic play activities is therefore vital in their preschool years.
How To Encourage Dramatic Play In Toddlers?
Encouraging your toddler to pretend play involves you getting down to your child's level and playing like them. Here are a few tips to help  stimulate ytheir pretending skills (3).
Observe your child's interests.
Sit face-to-face so they can see you and follow your actions.
Take the lead in case your toddler does not know how to play it.
Avoid giving too many options at once that may confuse them.
Take an active part in the play with your child to encourage them.
Expose your toddler to various new experiences as they can be material for play pretend wherever they go.
26 Dramatic Play Ideas For Toddlers and Preschoolers
1. Grocery store
Pretending to manage a grocery store will help develop communication skills in your toddler. You can start by clearing some shelves in your toddler's playroom to replicate shelves of the store. For the groceries, you can use empty cereal boxes or plastic play food available in the market. You will also need some grocery bags and a cash register.
Let your little one be the storekeeper, and you can be the customer coming into their store for shopping. Later, you may reverse these roles . 
2. Flower market
Gather a few artificial flowers  in and around your home and place them in different containers. You can also create some signs on paper and hang them to give it an authentic feel of a flower shop.
3. Science Lab
Pretend science lab is  mixing a buffet of things, which are safe to mix. The most common thing you will need for the science lab is water and a few safe-to-use kitchen tools and beakers. You may also put a few drops of food coloring in the water to make it  authentic. A lab coat and safety goggles are essential in the science lab.
4. Coffee shop
Grab a few cups, some play coins, and doddle a menu card for your toddler's coffee shop. You can give them some foam to be used as coffee. If you plan to have a foamed cappuccino on the menu, you can cut  some brown paper into small pieces and use it as foam. Get your aprons, and the coffee shop is open for service. Your  schild can have a wonderful time if you are totally involved in playing with them.
5. Pizza parlor
You will need a few paper plates, crayons, sticky back foam, scissors, and pizza boxes for a pizza parlor. Cut the foam into different vegetable shapes t for use as toppings. The paper plates can be used as a base for the pizza and the crayons as the sauce. You can also use cardboard boxes to make an oven. Then, call in and place an order so they can make pizzas for you.
6. Airplane voyage
Traveling is something that may excite anyone. So, when traveling is not possible, you can pretend play with airplane voyages. For this, you will need some chairs, a few pieces of paper, and a backpack. Let your toddler make boarding passes from the paper while you mark seat numbers on the chairs and create a ticket counter. Grab an atlas and select your  travel destination and write it on your boarding passes. Get to the counter, show your boarding pass and your passport and reach your respective seats. You can turn their toys into fellow passengers and be the flight attendant yourself. Bon Voyage!
7. Tea party
You can have tea parties with your children on special occasions or weekends for a wonderful time with each other. Set up the table with mini ceramic cups, play pastries, and cake. You can also arrange a mixer for baking to have lots of fun. Do not forget to keep some aprons ready for the bakers. Toddlers can also invite their toy friends over for a tea party.
8. Santa's elf workshop
Who doesn't love  Santa and the chance to become an elf working in Santa's workshop?. Clear out a table and set up different stations for the workshop, including a  toy testing station, a wrapping station, and a delivery station. You can also use some of their toys as gifts and put them in the stations to be wrapped and sent to Santa so that he can deliver them to the children on Christmas.
9. Library play
Make a cute reading area at a cozy corner of your house. Set up a table near the reading area and make a register to note the books borrowed and returned to and from the library. You can also make an index card to place inside the library's books and mark them when your child takes them for reading. You can also reverse the roles of the librarian with your toddler after a few times.
10. Ice cream shop
Working at an ice cream shop is fun. First, clear the table and set up an ice cream counter for your child. Next, use colored pom-poms for ice-cream scoops and make cones using brown paper. Finally, to add a variety to the play, you can add small paper cups and plastic spoons to serve delicious ice-creams.
11. Pirate ship
Grab an empty laundry basket, a few party streamers, a paper bag, sticky back foam, wrapping paper tube, and scissors. On the inside of a paper bag, draw a sail and cut it out with the help of scissors. In the meantime, let your toddler decorate the mast (wrapping paper tube) of the sail. You can also use some party streamers to decorate the sides of the boat. Finally, tape the sail to the mast of the boat and attach it to the sailboat.
12. Cupcake bakery
We all love cupcakes with pretty frosting and colorful sprinkles. This activity will help toddlers learn about colors and shapes. For this activity, you will need colored dough, cupcake liners, cookie cutters, cutting boards, and colorfulsprinkles. Your toddler can mix and match doughs of different colors to make the cupcakes look  interesting. After the dough is ready, cut it into different shapes and sizes using a cookie cutter and decorate it with sprinkles.
13. Vet's office
You can turn your toddler's playroom into a vet's clinic by  placing some stuffed animals and a doctor's kit. Pretend to be a pet owner and visit the clinic with your stuffed pet animal. Describe your pet's illness to the little doctor and let them examine your pet. Sounds fun?
14. Junior detective
All you will need for your toddler detective play are some household items and a few pieces of paper. Write down clues on the paper and hide them in different places of the house, leading to the hidden prize at the end. Let your toddler put on their detective glasses and search the entire house. This activity helps improve their brain functioning skills, emotional skills and also involves physical movement.
15. Perfume factory
Making perfumes may help your ltoddlers develop their fine motor skills. All you need for this activity are some bottles, water, and flowers. Pour water into the bottles and head out to the garden. Pluck various flower petals, put them into the water, leave them to infuse, so the perfumes are ready.
16. Doctor's chamber
Turn your toddler's playroom into a doctor's chamber by placing a table, a chair, and an apron. Use their toys as patients, while you may also pretend to be the one. Then, let the little doctor use the handy doctor play kit to examine you and prescribe your medicines.
17. Gardening
You will only require two things for this activity-Styrofoam and decorative flowers. Give these to your toddler and let them plant a beautiful garden. Then, ask them to stick the flowers onto the styrofoam, and their garden is ready. You can also perform this activity with your toddler, so that they can learn from you. There can also be multiple teachable moments during the play where you can guide your toddler.
18. Camping
Camping lets children engage in cooperative play and also learn problem-solving skills. You will need some wrapping paper roll, some orange and red colored papers, double stick tape, scissors, and a brown marker to perform the camping play. Add brown color to the paper. These will be the logs for the campfire. Cut the colored paper to form the flames of fire. Place the double stick tape on the logs and let your child stick the flames to it. Stick all the logs together, and your campfire is ready. Also, don't forget to pack some snacks for the camping trip.
19. Making Gingerbread man
Making gingerbread men is a fun activity that can keep your little one engaged for a long time. You will need foam gingerbread, googly eyes, gingerbread cookie cutters, and cookie sheets. You can turn the kitchen counter into a gingerbread-making station and enjoy this activity with your child.
20. Toy store owner
For this one, you can bring out all the toys. Clear out some shelves and arrange different toys in the store. You can also write prices for the toys on small pieces of paper, and the toy store is open for sale. You can visit the toy store as a customer to buy some toys with  fake money.
21. Managing a restaurant
You can sometimes turn dinner time into playtime. Become the chef and let your toddler be your executive. Plan the menu, the meal, set the table, and your at-home restaurant is ready for service.
22. Art gallery
Hand out a few sheets of paper and some crayons to your little one and let them draw some masterpieces. Later on, hang these drawings in a room and turn them into an art gallery. Get tickets for you and your family members to this art gallery because it is not something that you would want to miss. Also, when others meet the artist in person, it would be  exciting for your little one.
23. Ruling a kingdom
Does your child aspire to be a ruler and rule a kingdom? So why not make it happen. You can make a crown using chart paper and decorate it with beads and stones. Turn their playroom into a kingdom and their stuffed toys into ministers. All hail the new ruler.
24. Post office
You do not need any extravagant space to set up a pretend post office for your little one. Just set up a table and a chair in the corner of a room and the post office is ready. Let all the family members write letters to each other and submit them to the post office. A little mail carrier will be arriving at your place with these sweet letters soon.
25. Go fishing
You can use the couch as a boat and take your toddler fishing with the help of a string tied to a long wooden stick. First, cut a few colored pieces of paper in different sizes of fish and spread them on the mat in front of the. Then, with the help of the fishing rod, catch as many fish as you can.
26. Teddy bear hunt
Hide some of your toddler's teddy bears in different places of the house and leave around a few clues for them to find. Then, after they have found all the hidden teddy bears, leave a clue for an interesting surprise gift (can be their favorite candy or cookie) towards the end of the hunt.
Dramatic pretend play is an essential preschool activity for toddlers as it helps develop essential social and intellectual skills. It also improves gross and fine motor skills. Take ideas from the list of dramatic play activities that we have put together and have a wonderful time with your little one.
References:
MomJunction's articles are written after analyzing the research works of expert authors and institutions. Our references consist of resources established by authorities in their respective fields. You can learn more about the authenticity of the information we present in our editorial policy.
The following two tabs change content below.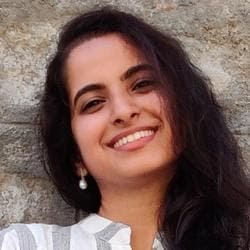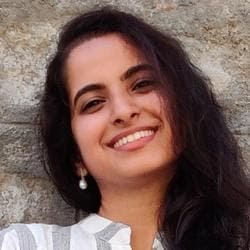 Sanjana did her post graduation in Applied Microbiology from Vellore Institute of Technology, India. Her interest in science and health, combined with her passion to write made her convert from a scientist to a writer. She believes her role at MomJunction combines the best of both worlds as she writes health-based content based on scientific evidence. Sanjana is trained in classical… more